Android is the most popular operating system in the mobile industry. With its incredible Features. If you are an Android smartphone user and looking for how to compress images.
You come to Right Place. In this article, I will show different-different techniques to compress an image. No matter Either you want to compress images for sending email, for your website, etc.
I will also  show how to compress images without any App
Best Android Apps to Compress Images
Compress Image Size in kb & MB
This is a Perfect App to Compress Images for those who want to compress images at a specific size. No doubt it takes some time to compress images.
But there is no alternative to this if you want to compress images at a specific size. You chose your picture then type size in kb or Mb and start the process
The rest of the work the app will do (It will take more than 1 minute).
Over 1 million total downloading and 4.5 Rating by 17k users Tells apps do work very well.
Photo Compress
if you want a faster way of compressing images then you can try this. Using photo compress you can compress multiple photos at once.
Other simple function like scale and rotate photos to enhance app functionality. The best thing It does not contain any ads.
Like the above app, this is also an ad-free app. But this is really advanced app. I mean using this you can Either use quick or custom compress.
Resize and Crop is also available.
This app has an inbuilt camera. You can instantly take photos and then do your process.
This app has total 1,000,000+ installs.
Using this app you can compress 10 photos at once. Apart from this Resize and crop is also available. Unlike the above two apps, it runs ads to make money.
App Rating is also not good as compared to other apps. Most of the app users complain about UI is not friendly. I will not recommend you to use this app.
This is one of the best apps for resizing or reducing size. The app is rated 4.5 by 107,115 users. UI is very friendly you will enjoy it while editing.
The direct share option makes it easy to share after editing.
For Resizing there are pre-made demissions like 1024*683 and 1280*853 available or you can use custom size.
This app has an inbuilt camera to take photos instantly.
Use Whatsapp to compress photos
Do you know using WhatsApp you can compress photos?
First of all, create a second WhatsApp account using parrel space 
Send photo videos from one number to another
Download it from the second account
Your task is complete, see the size of the photo as given in the screenshot I send a 223 kb image which will become 85 kb after sending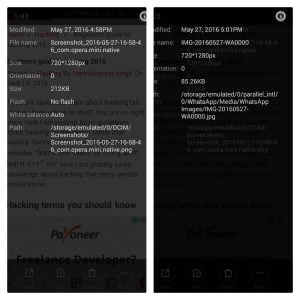 Tip: If you don't want to use dual WhatsApp then send it to your friend and say him to send you again.
Best websites to compress photos.
Here is my recommendation for websites to compress images
opens the website as shown in the screenshot.
After that click on Choose File and select your image. This website support both png and jpeg images.
You can also compress multiple images at once by using add more button.
After that click the compress button.
The next page is about selecting Quality. You can increase and decrease Quality. It also shows you the size of the image. By Default It compresses images up to 50%. You can decrease or increase it.
After selecting Quality click on Download Link.


Conclusion
I hope you have learned something new from this article. Using the comment box you can share your views, the suggestion about this article.